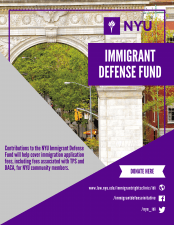 The Department of Homeland Security recently announced its decision to terminate Temporary Protected Status (TPS) designations for El Salvador, Haiti and Nicaragua. This decision affects hundreds of thousands of immigrants, many of whom have been living in the U.S. for nearly 20 years.  
USCIS has opened short 60 day windows for individuals to apply to renew their TPS and work authorization until the programs expire in 2019.
The process for renewal is costly: applicants must submit $495 along with their renewal applications to ensure access to work authorization ($410 application fee plus $85 biometrics fee). As you can imagine, gathering the funds to apply for renewal within 60 days can be extremely difficult for many immigrant families, especially for families with multiple TPS holders. The NYU Immigrant Defense Fund will directly support renewal applications for eligible TPS recipients who are NYU community members. Money raised through this fund will be immediately deployed by the NYU Immigrant Defense Initiative, which offers free and confidential representation for NYU students, staff and their immediate relatives.
Please consider contributing to the NYU Immigrant Defense Fund to help cover these fees for NYU community members. Our goal is to raise $15,000 by March 2018. This will allow us to cover the cost of applications for 30 NYU community members. Every dollar you donate will put us closer to our goal of keeping immigrant families together!
Make a contribution now (be sure to specify your contribution is for the NYU Immigrant Defense Fund under "Other Designation"). If you have any questions, you can contact the NYU Immigrant Defense Initiative at immigrant.defense@law.nyu.edu or 212-998-6640.