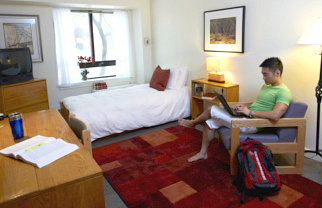 New York University School of Law housing includes two high-rise apartment-style residence halls and one low-rise building. With the majority of our students and many of our faculty living in close proximity to one-another, we are able to foster and sustain the engaged community which is a defining characteristic of the school.
We offer students an opportunity to live in a community-centered residence in a variety of living arrangements. In contrast to most conventional dormitories, our housing is apartment style. Most students are housed in a private bedroom within a two- or three-bedroom apartment. Family & Partner housing and one-person accommodations (studios and one-bedroom apartments) are available but limited in quantity.
These residential buildings also house the student journal offices, the Student Bar Association and many other student organizations. Our low-rise building, 130 MacDougal Street, allows us to offer economical one-bedroom apartment options. Please see the specific building descriptions for full details of all our facilities, including apartment layouts and furnishings.