Upcoming Events: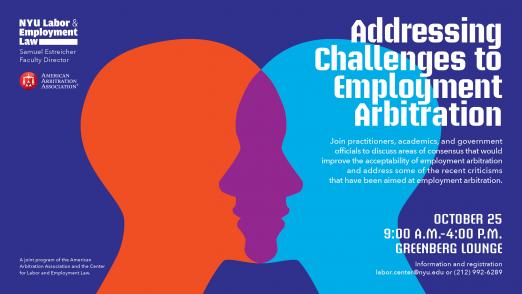 A joint program of the NYU Center for Labor and Employment Law and the American Arbitration Association. Registration is required. For information and registration:  http://bit.ly/AAALCEmploymentArb
Recent Events:
72nd Annual NYU Conference on Labor
ARTIFICIAL INTELLIGENCE (AI) AND AUTOMATION: IMPACT ON WORK AND WORKERS
Thursday and Friday, June 13 and 14, 2019
On June 13-14 at the 72nd NYU Annual Conference on Labor, the Labor Center explored the impact of artificial intelligence and automation – including machine learning, deep learning, data mining, robotics, facial recognition software, use of analytics to predict future success – on work, workers, and the workplace.  
Presentations included:
Day 1 – Thursday, June 13

Keynote Address by Hon. Kate O'Scannlain (Solicitor, U.S. Dept. Of Labor)

Job Displacement Effects of AI
Orley Ashenfelter (Princeton U.)
Cynthia Estlund (NYU Law)
Robert Seamans (NYU Stern School of Bus.)

Luncheon Address by Hon. Peter Robb (General Counsel, NLRB)

Programs in Mitigation of Impact on Workers
Improving the Earned Income Tax Credit (Clinton Wallace (U. South Carolina Law))
Expanding Employee Stock Ownership (Joseph Blasi (Rutgers School of Mgt.))
Robot Tax (Robert J. Kovacev (Norton Rose Fulbright))
Universal Basic Income (Albert Wenger (Union Square Ventures)), with comments by Larry Cary (Cary Kane)

How Are Companies Using AI?
Roger King (HR Policy Assn.)
Robert O'Hara (Epstein Becker)
David Skanderson (Charles River Assoc.)
Johnna Torsone (Pitney Bowes)
Kelly Trindel (Pymetrics)

How Are Other Countries Handling AI?
Ulrike Thiel (CMS Legal, Germany)
Shlomit Yanisky Ravid (Ono Law, Israel)
Moderator: Matthew Coleman (Orrick)

Day 2 – Friday, June 14

Keynote Address by Hon. John F. Ring (Chair, NLRB)

Labor Law Issues
Howard Robbins (Proskauer)
Paul Secunda (Marquette Law)
William Anspach (Friedman Anspach)

Privacy and Discrimination Issues
Workplace Privacy (Matthew Bodie (St. Louis U. Law))
Employment Discrimination (Pauline Kim (Washington U. Law))
Comments by Laurie Berke-Weiss (Berke-Weiss Law) and Heather Egan Sussman (Orrick)
Moderator: Michael J. Gray

Luncheon Address by Hon. Jenny R. Yang (Urban Institute; Former Chair, EEOC)

Professional Responsibility Issues
Aryeh Friedman (Dun & Bradstreet)
Adam Klein (Outten & Golden)
Aisling McAllister (Bond Schoeneck)
Bradford Newman (Paul Hastings)
Julia Stoyanovich (NYU Tandon School of Engineering)
Moderator:  David Lopez (Rutgers Law)


 
Media:
"Untethered Textualism in the Seventh Circuit's Kleber Ruling on Age Bias in Hiring" by Samuel Estreicher
https://verdict.justia.com/2019/03/21/untethered-textualism-in-the-seventh-circuits-kleber-ruling-on-age-bias-in-hiring
"The Supreme Court Did Workers A Favor" by Samuel Estreicher
https://www.bloomberg.com/news/articles/2018-05-24/how-neil-gorsuch-s-ruling-on-class-actions-does-workers-a-favor
"Why Business Is Glued To High Court's Public Sector Case" featuring Samuel Estreicher
https://bnanews.bna.com/daily-labor-report/why-business-is-glued-to-high-courts-public-sector-labor-case
"How Unions Can Survive A Supreme Court Defeat" by Samuel Estreicher
https://www.bloomberg.com/view/articles/2018-03-02/how-unions-can-survive-a-supreme-court-defeat