Upcoming Events:
72nd Annual NYU Conference on Labor
ARTIFICIAL INTELLIGENCE (AI) AND AUTOMATION: IMPACT ON WORK AND WORKERS
Thursday and Friday, June 13 and 14, 2019
Breakfast and lunch both days are included
Lipton Hall, 108 West Third Street
New York, NY 10012
Recent Events: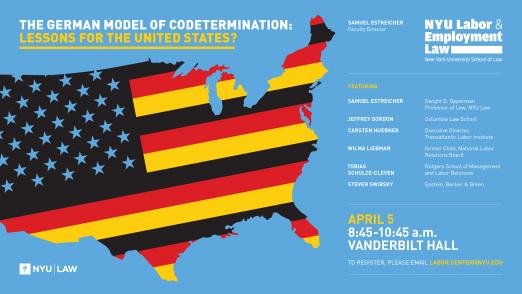 THE GERMAN MODEL OF CODETERMINATION: LESSONS FOR THE UNITED STATES?
Friday, April 5, 2019 from 8:45 AM to 10:45 AM EDT
"Mitbestimmung," or codetermination, is the German model of worker participation integral to both labor law and corporate governance in Germany. The concept has gained attention in the U.S., discussed by the United Auto Workers and Volkswagen's Chattanooga plant.  Join the NYU Labor Center to discuss the German experience and whether it might offer lessons to American companies and unions for a better way forward in labor relations, especially in confronting difficult challenges like technological disruption.
SPEAKERS:
Jeffrey Gordon (Columbia Law School)
Carsten Huebner (Transatlantic Labor Institute)
Hon. Wilma B. Liebman (former Chair, NLRB)
Tobias Shulze-Cleven (Rutgers School of Management and Labor Relations) 
Steven Swirsky (Epstein, Becker & Green)
Faculty Director: Samuel Estreicher, Dwight D. Opperman Professor of Law (NYU Law)
TO WATCH THE VIDEO, CLICK HERE
ASSESSING #METOO'S IMPACT ON EMPLOYMENT LAW

Wednesday, November 28, 9:00-11:30 a.m. 
(Continenetal breakfast available at 8:30.)
Full event information and registration are available here.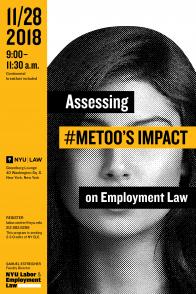 A year ago, the Harvey Weinstein scandal broke and the #MeToo Movement took off. Now it is time to assess the impact. Join the NYU Center for Labor and Employment Law  for a look at recent developments, including  New York legislation that aims to bar mandatory arbitration for sexual harassment claims, corporate in-house responses, and a review of EEOC filings and prevention initiatives.
What is working well? What are unforeseen consequences? What are the concerns of employers and employees in the wake of these changes?
SPEAKERS:
EEOC Commissioner Charlotte Burrows
Gary D. Friedman (Weil, Gotshal & Manges)
Cara Greene  (Outten & Golden)
Erika Ozer '97 (Swiss Re)
Christopher Reilly (Pitney Bowes)
Moderated by Davida Perry (Schwartz, Perry, Heller), with welcoming remarks by Samuel Estreicher, Dwight D. Opperman Professor of  Law, NYU School of Law
This event was co-sponsored by NYU Law Women and The Birnbaum Women's Leadership Network.

On June 7th and 8th, 2018, over 140 people attended the NYU 71st Annual Conference on Labor.  New leaders at the DOL (Solicitor Kate O'Scannlain) and NLRB (Chairman John Ring and General Counsel Peter Robb) addressed the audience, while academics, plaintiff and management attorneys, government and company representatives discussed developments in the labor and employment field under the Trump Administration.Labor Center Faculty Director, Professor Samuel Estreicher, presided over the Conference.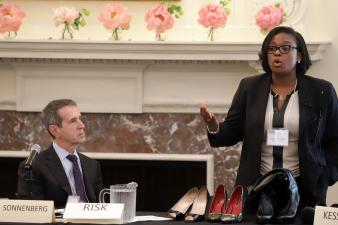 Labor Center Board Member Marjorie Mesidor (Phillips & Associates) gives a dynamic presentation on Elimination of Bias, illustrated by audience reactions to various shoes. Seated Left: Stephen Sonnenberg (JAMS)
SOME OF THE ISSUES DISCUSSED:
"Joint Employer" Issues
DOL's "Paid" Program, Opinion Letters, & Other Initiatives
Prior Salary Disclosure Laws
Changes at the NLRB
Reverse Preemption
Harassment in the Workplace
EEO Initiatives
Non-Mutual Issue Preclusion?
"Hire American" Labor Policies
The Conference was made possible in part by support from:

Media:
"Untethered Textualism in the Seventh Circuit's Kleber Ruling on Age Bias in Hiring" by Samuel Estreicher
https://verdict.justia.com/2019/03/21/untethered-textualism-in-the-seventh-circuits-kleber-ruling-on-age-bias-in-hiring
"The Supreme Court Did Workers A Favor" by Samuel Estreicher
https://www.bloomberg.com/news/articles/2018-05-24/how-neil-gorsuch-s-ruling-on-class-actions-does-workers-a-favor
"Why Business Is Glued To High Court's Public Sector Case" featuring Samuel Estreicher
https://bnanews.bna.com/daily-labor-report/why-business-is-glued-to-high-courts-public-sector-labor-case
"How Unions Can Survive A Supreme Court Defeat" by Samuel Estreicher
https://www.bloomberg.com/view/articles/2018-03-02/how-unions-can-survive-a-supreme-court-defeat