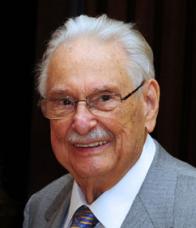 Dwight D. Opperman, a member of NYU Law's Board of Trustees, passed away on June 13 at the age of 89 after a brief illness. Although not an alumnus, Opperman was an invaluable member of the Law School community. A model of leadership and integrity, he combined sharp business acumen with a philanthropic spirit and a graciousness that made a significant difference in the lives of many individuals and institutions, including NYU Law.
"Throughout my deanship, I always knew I could turn to Dwight for support and wise counsel," said Richard Revesz, Lawrence King Professor of Law and Dean Emeritus. "The wonderful effects of his unflagging enthusiasm for the Law School and his dedication to the judiciary will be felt by generations to come. I feel very lucky to have known him."
Opperman became a trustee in 1996, the same year that the Dwight D. Opperman Scholarship was established at the Law School. More than 40 students and alumni have been Opperman Scholars to date. In 2004 he endowed a chair, the Dwight D. Opperman Professorship of Law, which has been held since its inception by Samuel Estreicher. The Institute of Judicial Administration, a pioneer in its commitment to improving the administration of justice in federal and state courts, was renamed the Dwight D. Opperman Institute of Judicial Administration in 2005 to recognize Opperman's outstanding support, as both a long-time IJA board member and principal funder, for the IJA's mission.
He came from humble beginnings in rural Iowa, where he grew up during the Great Depression; as a child, he walked along train tracks collecting stray coal to heat the family home. As a young man, he was an accomplished saxophonist who played in bands, with his first wife, Jeanice, often accompanying him as vocalist. But Opperman ultimately turned to the law and went on to become a self-made billionaire. After serving in the Army during World War II, he attended Drake University Law School with the aid of the G.I. Bill, and was the only member of his family to go to college. Subsequently he became an editor at West Publishing Company, eventually working his way up to CEO and chairman. In the 1970s, Opperman pushed the company to deliver information electronically. The result was the legal research resource Westlaw, known to every legal practitioner.
After Thomson Corp., now Thomson Reuters, bought West in 1996, Opperman became chairman of Key Investments, a high-tech venture capital firm. He also turned more actively to philanthropy, endowing the Dwight D. Opperman Scholar Program at Drake University Law School as well as the Dwight D. Opperman Constitutional Law Lecture, a series that has included 10 current or former Supreme Court justices. He also served on the boards of NYU Law's Brennan Center for Justice, Drake University, the American Judicature Society, and the Supreme Court Historical Society. Throughout his many endeavors, Opperman maintained a focus on how to improve legal education and the law.
"A warm, decent man, Dwight Opperman was a great friend of judges and the courts," said Estreicher, who is co-director of the IJA. "There is no program in the country dedicated to the education of judges and excellence in the judicial process that has not been the recipient of Dwight's personal generosity and sage counsel. We will sorely miss him."
"While I did not have the honor of working with Dwight," added NYU Law's newly installed Dean Trevor Morrison, the Clarence D. Ashley Professor of Law, "I have heard many glowing stories about him from my colleagues on the Board and faculty, and from my predecessor, Ricky Revesz. It's clear to me that NYU Law has benefited enormously from Dwight's keen intelligence, foresight, generosity, and thoughtfulness."
Opperman's first wife, Jeanice, died in 1993. He is survived by his wife, Julie; his two sons, Vance and Fane; nine grandchildren; and 13 great-grandchildren.
Posted on June 14, 2013