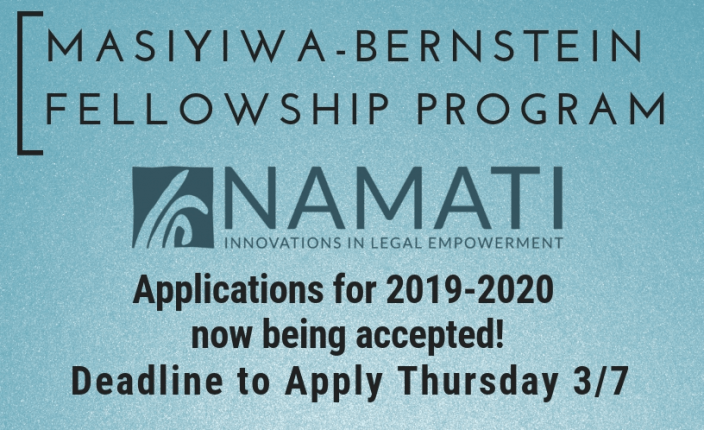 Applying for the Masiyiwa-Bernstein Fellowship
The Masiyiwa-Bernstein Fellowship provides three graduating NYU Law JD students with the opportunity to spend one year working with an innovative human rights organization. Fellows will be selected to work with Namati, the NYU Stern Center for Business and Human Rights, and Robert F. Kennedy Human Rights, beginning in September 2019. 
Application Requirements
Applicants must submit the following materials:
1) a short personal statement (500 words maximum) describing the applicant's relevant experience, interest in the work of the organization, and future aspirations;
2) two letters of recommendation, including one letter from a current or former professor or other person associated with NYU School of Law and one letter from a supervisor or employer familiar with the applicant's human rights work or recent work experience;

3) a résumé
4) law school transcript
Application Deadlines, Selections Timeline, and Instructions
Applications are due by end of day Thursday, March 7 to be considered for a fellowship beginning in the fall of the subsequent year.  There is no advantage to applying early.   Finalists will be notified by Friday, March 8, and interviews will be conducted with the Bernstein Institute on Tuesday, March 12 between 9:30am-12:30pm. A final, partner-organization interview with Namati will take place shortly thereafter.  Applicants must be available to interview at these times.  Once offers are made, the applicants will be asked to decide within three business days whether or not they wish to accept the fellowship.
Submit all materials by e-mail to pilc.info@nyu.edu.  Recommenders may email letters directly to this email address, or mail them to:
Masiyiwa-Bernstein Fellowship Selection Committee
Public Interest Law Center
NYU School of Law
245 Sullivan Street
New York, NY 10012
Qualifications
The Masiyiwa-Bernstein Fellowship Selection Committee will review applications and select finalists to be interviewed by the organizations. Factors the committee will consider include:
a) the applicant's human rights experience (in law school courses, extracurricular activities, summer jobs, and full-time work);
b) the applicant's leadership capabilities and likely future commitment to human rights work; and
c) the applicant's interest in and commitment to the organization's work.
---
About This Year's Partner Organizations
Namati, an international NGO headquartered in Washington D.C., has a mission is to build a robust, evidence-based global movement for legal empowerment. Namati executes its work in three ways:
Grassroots Innovation - in which Namati and its partners have deployed grassroots advocates to work with over 40,000 clients in eight countries to take on some of the greatest challenges of our times: protecting community lands, enforcing environmental law, and securing basic rights to healthcare and citizenship;
Research and Advocacy - in which Namati tracks data on every case and uses that information to advocate for systemic changes, like better policies for land governance in Liberia, environmental regulation in India, and healthcare delivery in Mozambique; and
Convening of a Global Legal Empowerment Network in which a network of over 750 groups from 150 countries learn from one another and bringing justice to communities in every part of the world. Namati was recently recognized with the prestigious Skoll Award in 2016, and their advisory board features leaders like Amartya Sen, Mo Ibrahim, Fazle Abed, and Madeleine Albright.
The Global Programs Fellow works alongside the CEO and the Global Programs team to generate comparative learning across Namati, and build high level insights about best practices in legal empowerment.
Sample Work Product:
Assisted the CEO and Global Programs team to handle tough cases, identify and document innovation, and assess new opportunities. Recent examples include:

Research laws associated with overseas investments, for e.g. Chinese-funded mining projects in select African countries
Understand the environmental risks and mitigation measures for Palm Oil Production in Sierra Leone;
Research environmental justice challenges to help Namati scope an entry point for legal empowerment in the United States;
Identify new approaches to case management, including training for paralegals engaged in community-based monitoring of pollutants
Supported Namati leadership members in researching and writing publications, including academic articles, columns in the popular press, and resources for practitioners. Recent examples include:

Develop a literature review on legal empowerment;
The forthcoming practitioner's guide on statutory recognition of paralegals;
A paper by our CEO and Right to Health Program Director on legal empowerment and the right to health in Mozambique recently accepted for publication in the Harvard Health and Human Rights Journal.
Robert F. Kennedy Human Rights is a human rights advocacy organization that works to realize Senator Robert F. Kennedy's dream of a peaceful and just world by advancing human rights. The Partners for Human Rights is the litigation, advocacy and training arm of RFK and the "advocates raise awareness of the most important and sometimes overlooked human rights abuses, amplifying the voices of local defenders and pressuring those in power to respect human dignity."  In 2013 RFK's Partnership for Human Rights launched the International Strategic Litigation team led by NYU alum and Managing Attorney, Wade McCullen. The team brings cases before regional and international tribunals and human rights mechanisms with a focus on Africa and Latin America. The team has secured new and groundbreaking precedents that raise human rights standards around the globe. In the last two years, the International Strategic Litigation team has decided to focus their work exclusively on civic space with active cases before the African Commission and Inter-American Commission on issues concerning peaceful protest, maintaining independence of NGOs, the right to vote, and heightened protections for journalists. Recently the team has engaged in cross-regional learning exchanges with an upcoming litigation workshop in Dakar, Senegal involving lawyers and human rights activists from the African and Latin American region to share strategies and tactics on protecting civic space. All of RFK's work is done in partnership with local civil society organizations and defenders, many of who are recipients of RFK's Human Rights Award for courageous activists. 
Sample Work Product:
Deeply engaged in RFK's strategic international litigation docket:

Assumed a primary role in drafting initial filings in cases;
Explored and developed legal arguments with local partners;
Gathered initial facts;
Developed legal theories;
Pitched arguments to the RFK legal team;
Drafted the legal briefs and related documents

Engaged in fact-finding investigations and drafted an advocacy report based on such findings
Developed and oversaw the amicus project, an initiative to enable foreign experts to submit amici in international proceedings concerning civic space
Worked with the team to develop an advocacy strategy following positive decisions
Drafted advocacy and communication materials including blogs, press releases, and communications to embassies
Attended advocacy meetings with state department officials
The Stern Center for Business and Human Rights at the NYU Stern School of Business challenges and empowers companies to make practical progress on human rights. It is the first human rights center at a business school. The Center takes a sector-by-sector approach working with business leaders and other stakeholders to develop clear industry human rights standards and metrics. Our current projects include labor and factor safety issues in apparel supply chains, the flow of migrant workers from South Asia to the Gulf in the construction industry, forced labor in fishing, and developing accurate and useful measurements on corporate human rights performance for investors.
Sample Work Product:
Conducted research and gathered information for the Center's reports and industry assessments, including best practices in multi-stakeholder initiatives
Engaged in cutting-edge research on the intersection between corporations, governments and civil society on human rights issues
Assisted in the convening of stakeholder engagements and advocating for implementation of the Center's recommendations