The Bernstein Institute for Human Rights Annual Conference convenes an interdisciplinary panel of experts to discuss some of the most pressing human rights issues of our time. Previous topics included legal strategies and tactics to resist the global crackdown on civil society and the human rights implications of predictive analytics.
Annual Conference 2018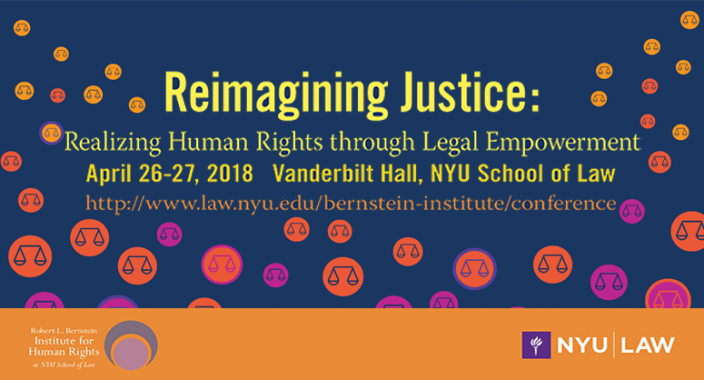 Reimagining Justice: Realizing Human Rights through Legal Empowerment
More than 4 billion people are understood to be living outside the protection of the law. Adding to this unjust and ongoing status quo are profound levels of income inequality and rising authoritarianism across the globe. The result is an urgent need to reimagine legal systems that work for everyone.
Legal empowerment, a growing field of human rights practice, scholarship, and education, strives to reverse this tide of injustice and strengthen the capacity of marginalized individuals to use the law to find solutions to their justice problems. Many view it is a deeper version of democracy, giving voice and agency to those who have been historically powerless.
The Robert L. Bernstein Institute for Human Rights at NYU School of Law is committed to the advancement of legal empowerment through innovative research, education, and advocacy. Our 2018 conference, Reimagining Justice: Realizing Human Rights through Legal Empowerment, leverages the interdisciplinary strengths of the Robert L. Bernstein Institute for Human Rights and draws together leading activists, lawyers, and academics from around the world to assess the state of the legal empowerment field, identify key research and methodological opportunities, and build a stronger global movement for grassroots justice
Day 1 April 26, 2018
Panel 1 (10:00-11:30am): Legal Empowerment - Advancing Human Rights by Transforming Access to Justice
This opening panel will provide an introductory, analytical framework of the key concepts underpinning legal empowerment, illuminating how empowerment can transform access to justice and make real human rights. Presenters will reflect on the evolution of the field while also exploring the future of legal empowerment practice, scholarship, and advocacy.
Moderator
Peter Chapman - Senior Policy Officer, Open Society Justice Initiative, United States
Speakers
Gertrude Nyausi Angote - Executive Director, Kituo Cha Sheria, Kenya
Manzoor Hasan - Executive Director, Centre for Peace and Justice, BRAC University of Bangladesh
Anuradha Joshi - Social Scientist, Institute for Development Studies, United Kingdom
Vivek Maru - CEO, Namati, United States
Panel 2 (11:45-1:15pm): Refugee, Health, and Prisoners' Rights - Diversity of Issues and Interventions
This panel will demonstrate how legal empowerment must encompass a wide spectrum of sectors, interventions, and regions to transform access to justice. Through case studies, the presenters will share effective methods to address justice barriers in the protection of health, refugee, and prisoners' rights, and draw parallels in achieving lasting change for marginalized communities.
Moderator
Sukti Dhital - Deputy Director, Robert L. Bernstein Institute for Human Rights, NYU School of Law, United States; Co-founder, Nazdeek, India
Speakers
Walter Flores - Executive Director, Centro de Estudios Para La Equidad y Gobernanza en Los Sistema de Salud, Guatemala
Lu Jun - Co-founder, Beijing Yirenping Center, China; Visiting Scholar, Fordham University School of Law
Brian Rawson - Associate Director of Advocacy and Communication Officer, Asylum Access, United States
Haya Zahid - Executive Director, Legal Aid Office; Legal Aid Society, Pakistan
Panel 3 (2:15-3:45pm): Knowledge is Power - Legal Empowerment Research
This session will offer dynamic insights into legal empowerment research. Panelists will discuss methodologies including participatory action research, randomized controlled trials, and legal needs surveys while probing learning questions that address gaps in current scholarship. The focus will be on building a robust research agenda to establish evidence of how legal empowerment achieves concrete results.
Moderator
Zaza Namorazde - Director, Open Society Justice Initiative Budapest Office, Hungary
Speakers
Stephen Golub - Independent Researcher and Consultant, United States
Erin Kitchell - Director of Global Learning and Practice, Namati, United States
Gustavo Maurino - National Director of Access to Justice, Ministry of Justice and Human Rights, Argentina
Jane Weru - Founder and Executive Director, Akiba Mashinani Trust, Kenya
Panel 4 (4:00-5:30pm): Using Technology as a Tool to Empower Communities
Panelists will explore the intersection of legal empowerment and technology, and reflect on the potential and pitfalls of using technology as a tool to build knowledge and power in marginalized communities.
Moderator
Marta Schaaf - Deputy Director, Averting Maternal Death and Disability program, Mailman School of Public Health, Columbia University, United States
Speakers
Denise Dora - Founder and CEO, THEMIS, Brazil
Tim Kakuru - Co-founder and Head of Research, Barefoot Law, Uganda
Gregor MacLennan - Program Director, Digital Democracy, United States
Jayshree Satpute - Co-founder and Director, Nazdeek, India
Day 2 April 27, 2018
Panel 5 (9:00-10:30am): Building Power in Post-Conflict, Repressive, and Absent States
The strength and openness of a justice system greatly impacts people's access to justice. With rising authoritarianism and instability around the world, speakers will reflect on pursuing legal empowerment methods in post-conflict, repressive, and absent states.
Moderator
Margaret Satterthwaite '99 - Professor of Clinical Law, NYU School of Law; Faculty Director, Robert L. Bernstein Institute for Human Rights, NYU School of Law, United States
Speakers
Alex Yong Kang Chow - Activist, Umbrella Movement, Hong Kong
Tashwill Esterhuizen - Lawyer, LGBTI and Sex Workers Rights Programme, Southern African Litigation Centre, South Africa
Samuel Nesner - Community Organizer, Kolektif Jistis Min, Haiti
Susan Turay - Monitoring and Evaluation Manager, Access to Justice Law Center, Sierra Leone
Panel 6 (10:45-12:15pm): Tackling Corporate Abuse through Community Action
As corporate power continues to rise and consolidate around the globe, human rights are increasingly under attack. This session will discuss community-driven strategies to obtain accountability for human rights abuses perpetrated by corporate actors in Africa, Asia, and Latin America.
Moderator
Sharon K. Hom '80 - Executive Director, Human Rights in China; Director, China and International Human Rights Law Research Program, Robert L. Bernstein Institute for Human Rights, NYU School of Law, United States
Speakers
Juan Auz - Co-founder, Terra Mater, Ecuador; Executive Director, Fundación Pachamama; Research Fellow, Potsdam Institute for Climate Impact Research
Kanchi Kohli - Legal Research Director, Namati-Centre for Policy Research, India
Marlon Manuel - Senior Adviser to Global Legal Empowerment Network, Namati; Former National Coordinator, Alternative Law Groups, Philippines
Johanna von Braun - Executive Director, Natural Justice, South Africa
Panel 7 (1:15-2:45pm): Emerging Models of Legal Empowerment in the United States
Legal empowerment models are emerging in the United States as marginalized communities are under attack. This panel will spotlight strategies to empower affected communities with the knowledge, tools, and support to improve their justice outcomes in the areas of criminal defense, housing, and immigration.
Moderator
Lam Ho - Founder and Executive Director, Community Activism Law Alliance, United States
Speakers
Dan Jackson - Executive Director, NuLawLab, United States
Rajesh Jayadev - Founder and Director, Albert Cobarrubias Justice Project, Silicon De-bug, United States
Ravi Ragbir - Executive Director, New Sanctuary Coalition, United States
Rebecca Sandefur - Associate Professor, University of Illinois Urbana-Champaign, United States