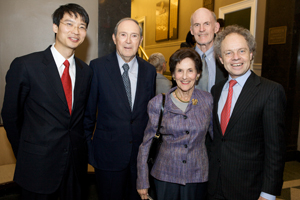 On January 24, the Hauser Global Law School Program held its 17th annual dinner. Invitations for the event, an opportunity for current scholars, researchers, faculty, alumni, and friends of the program to connect with one another, proved so popular that the venue had to be changed at the last minute to Vanderbilt Hall's spacious Greenberg Lounge.
Before introducing University Professor Richard Stewart, who is the chair and faculty director of the Hauser Global Law School Program, and Rita Hauser, the alumna who founded the program with her husband Gustave Hauser (LL.M. '57), Dean Richard Revesz described the Hauser Program as being in its second phase. "Hauser 1.0 was about bringing the world to NYU," he said. "Hauser 2.0 is about taking NYU to the world." It was certainly a global gathering, with scholars and fellows from Greece, Germany, Bosnia-Herzegovina, New Zealand, South Africa, Peru, Italy, China, England, France, and Korea in attendance.
Winston Wenyan Ma (M.C.J. '98), managing director and deputy chief of China Investment Corporation's Representative Office in Toronto, was the 2012 keynote speaker. In her introduction, Hauser described Ma as one of the Law School's most well-rounded graduates, someone with a foot in scholarship, law, and finance. She was absolutely correct: Ma, who worked for Davis Polk and Wardwell, JPMorgan Chase, and Barclays Capital before joining CIC, is also the author of the 2006 book Investing In China: New Opportunities in a Transforming Stock Market.
Ma's wide-ranging speech, which referenced modern scholar Niall Ferguson, Qing dynasty scholar Liang Qichao, and quantum physics, focused primarily on what he considered the three waves of Chinese modernization—the opening and reform of the country in the 1980s which saw Chinese Ph.D. students studying abroad; the surging growth in the 1990s that saw ex-patriot Chinese students branch into law, management, and finance; and the most recent, post-WTO admission era in which increasing numbers of Chinese students are choosing to return to participate in their country's remarkable growth.
As the U.S. and China grapple with their increasingly intertwined roles over the coming years, Ma is one of an extremely select group of people with the experience, education, and background to provide a bridge for constructive dialogue between the two world powers. "Each government must work to build domestic security and prosperity to fit its own unique political, economic, geographic, cultural, and historical circumstances," he said. "But there must be cross-border conversations and brainstorming in the broadest possible context, and the NYU and Hauser Program is the perfect venue for that. This historic time of the century calls for the collective effort of the NYU community—each and every one of us."
Posted on January 27, 2012