In a ceremony held on August 24, University Professor Jeremy Waldron received an honorary doctorate of law from the University of Buenos Aires School of Law. Upon receiving the academic accolade, Waldron spoke about a key focus of his scholarship in a lecture on "The Distinctive Value of Human Dignity."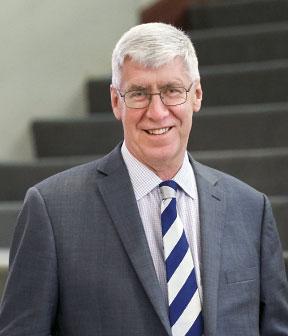 Waldron began by noting that there is no canonical definition of dignity in American jurisprudence. "Perhaps in some ways it is good that dignity is not pinned down in a definition, but rather allows insights into respect for humanity to be generated in new and disconcerting ways," he said.
Waldron described the philosophical underpinnings of the concept and legal cases that show it in action, as well as the criticism that has been leveled against the principle of human dignity as a concept. One of the greatest values of this principle, Waldron argued, is that it lays the groundwork to establish equality and respect for all: "Human dignity is high equality: it levels us up, treating each of us for certain purposes as the equal of the most elevated and high-ranking dignitary."
The concept of human dignity is one that Waldron has explored throughout much of his work in the past decade, including in One Another's Equals: The Basis of Human Equality, published by Harvard University Press in 2017, and Dignity, Rank, and Rights, published by Oxford University Press in 2012. Last spring, he taught a Human Dignity Seminar at the Law School.
A member of the American Academy of Arts and Sciences and a fellow of the British Academy, Waldron has previously given prestigious academic lectures including the Tanner Lectures at Berkeley, the Holmes Lectures at Harvard Law School, the Hamlyn Law Lectures in England, and the Gifford Lectures in Edinburgh.
Posted August 31, 2018