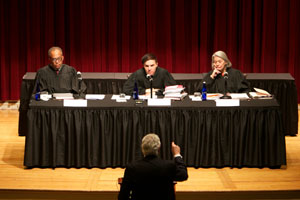 On March 5, NYU Law had the rare privilege of hosting oral arguments before a panel of the U.S. Court of Appeals for the Second Circuit that included Judge Robert Katzmann and Judge Barrington Parker, both of the Second Circuit, and Judge Miriam Cedarbaum of the U.S. District Court for the Southern District of New York.
Attorneys and judges conducted arguments in front of a capacity crowd in Tishman Auditorium. The four cases concerned a wide variety of legal issues: discovery of U.S.-based documents in foreign proceedings before a foreign tribunal, the question of federal liability protection for employees of a health care facility in a medical malpractice suit, the admissibility of the legal boilerplate on a lift ticket in a skiing injury case, and allegations of fraud and conversion against the executor of an estate.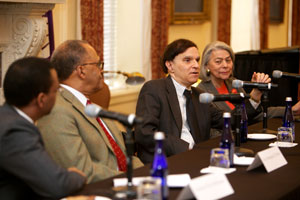 After the judges deliberated briefly, they returned for a question-and-answer session with students. While the judges were not able to discuss the specific merits of the argued cases, they freely engaged with NYU Law students in discussion of broader judicial matters.
Professor Troy McKenzie '00, the panel's moderator, observed that the Second Circuit seemed to grant oral arguments more frequently than other circuits did. Katzmann, an adjunct professor at the Law School, said that he viewed oral argument as having a "legitimating function" in giving both the public and litigants access to the courts. Furthermore, he said, "It helps me confirm where I think I'm going. It helps me overcome questions or doubts that I might have about a particular case. Also, my mind is often changed—maybe 15 percent of the time—by oral argument. Just listening to my colleagues and hearing their questions is very helpful.... I think not to have it is to really deprive ourselves of an important part of the process."
Posted on March 14, 2013