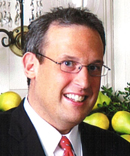 Alan N. Rechtschaffen is a partner of the Rechtschaffen Institutional Group at UBS Financial Services, Inc. and advises corporate, government and individual clients on capital market participation.
He has been appointed to the adjunct faculty of the New York University School of Law to teach the course he created, Financial Instruments and the Capital Markets: Structures, Management and Regulation. He also created the Global Economic Policy Forum with Professor Geoffrey Miller at which Chairman Bernanke is the first policy speaker.
Rechtschaffen, an adjunct professor at the Fordham University School of Law, innovated Fordham's courses on Derivatives and Risk Management and Corporate Governance. He serves as the chairman of the Fordham University School of Law International Symposium on Derivatives & Risk Management ,and chaired the Fordham University School of Law education initiative Focus on Corporate Governance—Director & Officer Responsibility: A Plan for Action. His conferences have been featured in the Wall Street Journal, the New York Law Journal and American Banker, and have been referenced as part of the Congressional Record.
He is currently writing a book for Oxford University Press. Rechtschaffen has published several articles on financial regulatory issues, and has spoken at Princeton University at the request of the New Jersey Educational Facilities Authority on the subject of financial instrument risk management. Rechtschaffen has done extensive work and research in the areas of corporate governance, operational risk management and the regulation of financial instruments. His company, Risk And Derivatives Consulting Board, Inc., for which he served as chairman and chief executive officer, orchestrated the seminal white paper on market volatility and rogue trading, funded by Chubb. Rechtschaffen put together a blue-ribbon panel to establish principles of prudent operational risk management for directors, officers and risk managers. Many NYSE-listed companies and their directors have utilized these principles, according to their insurers. The New York State Insurance Department implemented his education program to train its regulators in operational risk management and derivatives-related issues
Rechtschaffen has experience as a policy maker, regulator and representative of the public interest. In 2006 he was appointed by President George W. Bush to serve as a member of the U.S. Holocaust Memorial Council. He was appointed by Governor George Pataki to help regulate the real estate brokerage industry in the State of New York as a member of the New York State Real Estate Board. Rechtschaffen was recently chosen to chair the Board's Committee on Commission Protection. He was a New York City official and member of the New York City Campaign Finance Board, being granted a unique dispensation by the mayor to serve as both a New York City and New York State official.
While at the Risk And Derivatives Consulting Board, he developed an education program on operational risk management and corporate governance for the New York State Insurance Department. He has worked closely with regulators from the Federal Reserve on analyzing operational risk, and has written on the subject of the role of the Federal Reserve in domestic capital markets in his work with Governor Susan Phillips, a member of the Board of Governors of the Federal Reserve System. He served as a member of the Association of the Bar of the City of New York Committee on Futures Regulation, and was appointed to serve as an arbitrator for the National Futures Association (NFA).
Rechtschaffen has a B.A. from Columbia College, and a J.D. from Fordham University School of Law. He recently completed his service as a four-term, bipartisan appointee to Manhattan's Community Board 8, where he served on the Executive Committee and chaired the Board's Committee on Public Safety. He has also served as a representative member of the Board of Directors of the Center for Arts Education for New York City.
He is a world-class backgammon champion, has run three New York City Marathons (but not very quickly) and lives on New York's Upper East Side with his wife, Dr. Miera Rechtschaffen.