The NYU Leadership Series in Law and Business for 2013-14 kicked off on September 23 with a discussion between Larry Thompson, executive vice president of government affairs, general counsel, and corporate secretary of PepsiCo, and NYU Law Trustee Sara Moss '74, executive vice president and general counsel of the Estée Lauder Companies.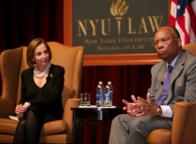 Thompson began his long and varied career as an in-house attorney at Monsanto. He then joined the firm King & Spalding in Atlanta, but left in 1982 for a four-year stint as U.S. attorney for the Northern District of Georgia. He returned to King & Spalding, eventually making partner, before departing again in May 2001 to become deputy attorney general in the U.S. Department of Justice. In 2003 he left the Justice Department to spend a year as a senior fellow at the Brookings Institution. Thompson then became senior vice president for government affairs and general counsel at PepsiCo. He retired in 2011, but returned to PepsiCo the following year at the request of CEO Indra Nooyi.
"Larry has gone back and forth between government and private sector," said Moss, "always successfully, always with a wider breadth of responsibility and knowledge." For his part, Thompson said, "I think I've just been lucky," citing supportive parents, high-caliber colleagues, and mentor Griffin Bell, with whom he worked at King & Spalding after Bell had served as U.S. attorney general in the Carter administration. (A young fellow lawyer at Monsanto, Clarence Thomas, had convinced Thompson to go to King & Spalding in the first place.)
The most dramatic phase of Thompson's career may have been his stint as deputy attorney general under Attorney General John Ashcroft. In the first few months of Thompson's tenure, he found the job less than fully engaging, but 9/11 changed everything. That day Ashcroft was out of town, so Thompson, second-in-command, received an urgent phone call from Condoleezza Rice followed by the arrival of U.S. marshals to take him to the infamous "undisclosed location."
"There was nothing in the books you could go to and say what do you do when over 3,000 of your fellow citizens have been murdered," said Thompson. "It was an unbelievably horrific experience…. Before, the Department of Justice was focused on reacting to criminal activity…. We recognized we had to do something more than just react. When people are willing to give their lives to do evil and horrific things to other people, you really have to focus on prevention."
Thompson and his colleagues knew late that summer, from counterterrorism briefings with experts talking about a high level of "noise," that "something was amiss." In response, Thompson drafted a memo that August with a plan "lowering the wall" between the CIA and the FBI so information could be shared more effectively. He subsequently became the head of the National Security Coordination Council to work on those issues.
Achieving a balance between national security and civil liberties remains difficult, Thompson said. "The country is still dealing with this—witness the debacle with the NSA. I still have a lot of confidence in judges. I know the FISA court has been derided a bit, but I think the judges who are appointed to that court take their jobs very seriously. I certainly don't think—even though as you and I are speaking there's somebody around the world plotting to kill us—that we can give the executive branch a blank check. We've got to figure out how we're going to not change the essential character of this country but continue to protect our public safety."
As deputy attorney general, Thompson also headed the Corporate Fraud Task Force, issuing an internal Justice Department memo to provide guidance to federal prosecutors on determining whether to charge a corporation, its employees, or both with criminal offenses. Some considered the guidelines in the memo too hard-nosed, but, Thompson said, "I think it helped restore a sense of justice in our country and certainly helped send a message to the American people that you're not going to get away with criminality, whether you are a low-level person or a highly placed corporate executive."
Thompson has some criticisms of statutes regulating business conduct that leave some ambiguity as to whether a violation is civil or criminal. In his position at PepsiCo, Thompson said, he works hard "to make certain that the senior management of the company and the board are free to go about running the company and growing value for our shareholders and doing the kinds of things that are going to continue to make PepsiCo a great company."
Expressing a belief in the mutually beneficial interdependence of society and corporations, Thompson said that PepsiCo's business model adopts a "performance with purpose" approach that interweaves good corporate citizenship and profit-making. He also promoted the virtues of public service as an integral part of a lawyer's career.
"The reason I've been in and out of public service is because…it's been a way for me to nourish my professional development," he said, "and I found public service interesting and satisfying…. It's been a vehicle for me not only to become a better lawyer but also to get great satisfaction serving the public's interest."
Watch the full video of the event (1 hr, 10 min):
Posted on September 30, 2013