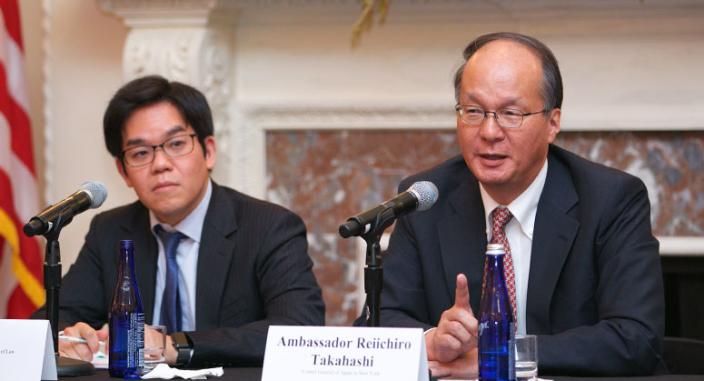 As President Trump called for an "open and free Indo-Pacific" on his first state visit to Asia, legal scholars gathered stateside at a U.S.-Asia Law Institute (USALI) conference held at the Law School on November 6 to discuss human rights, sovereignty, and maritime disputes in relation to China and international law.
Ambassador Reiichiro Takahashi, consul general of Japan in New York, spoke at the day-long 23rd annual Gelatt Memorial Dialogue on China and the Rule of Law and shared his observations about security challenges related to two countries in East Asia: North Korea and China.
"We have had a long history of negotiations with North Korea over the three generations of leadership," said Takahashi, who has served in the foreign service for 36 years. Takahashi pointed out that Kim Il-sung was open to negotiation but did not keep his word, while Kim Jong-il only pretended to negotiate. Now, he said, Kim Jong-un does not even pretend to negotiate.
Experts believe that North Korea will have the capability to send a nuclear missile to the West Coast of the US in two years, according to Takahashi. The ambassador weighed the option of mutual suspension that has been suggested by China and Russia. Under this plan, North Korea would freeze nuclear development and the US would cease joint military exercises with South Korea. But the history of negotiations with North Korea showed that it would be difficult to verify such a freeze, Takahashi said.
"Time is not on our side, but our options are also limited," Takahashi said. For now, the best option is to maintain maximum pressure on Kim Jong-un and to encourage countries including China to target North Korea with sanctions, he said.
Speaking after Takahashi, Ren Ito LLM '04, senior fellow at USALI, noted that Chinese President Xi Jinpin has suggested that the international community will see a more assertive China in the years to come. "What can we do to invite China to follow, respect, and strengthen the legal framework, and act as a responsible stakeholder in this region?" Ito asked.
Ito also expressed concern about the rise of nationalism in China. "While nationalist sentiments may hold potential to overcome a social crisis," he said, "It can easily grow out of control."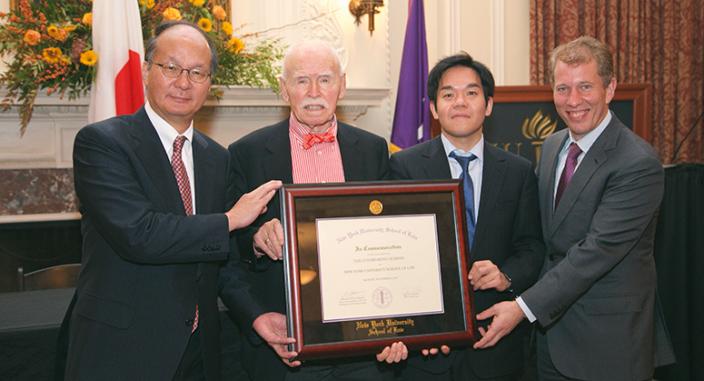 Earlier in the conference, John Norton Pomeroy Professor of Law Philip Alston; Sharon Hom '80, director of China and International Human Rights Research Program at the Robert L. Bernstein Institute for Human Rights; and Teng Biao, a former law professor in China and now an affiliated scholar at USALI, discussed the United Nations, China, and human rights. Yu-Jie Chen LLM '08 JSD '16, an affiliated scholar at USALI, presented a talk on Taiwan, cross-strait relations, and human rights, and Alvin Cheung LLM '14, affiliated scholar at USALI, examined whether the Sino-British Joint Declaration is still operable in Hong Kong. In the last panel of the day, Peter Dutton, director of the China Maritime Studies Institute at the US Naval War College and an affiliated scholar at USALI, discussed the South China Sea after the Philippine Arbitration with Isaac Kardon, assistant professor at the US Naval War College and an affiliated scholar at USALI.
Following the academic panels, a signing ceremony officially commemorated the $5 million gift from the Government of Japan in support of USALI.
Posted on November 15, 2017