Avoiding the Next Harvey Weinstein: Sexual Harrassment and Non-Disclosure Agreements
Friday, February 2, 2018 in Greenberg Lounge, Vanderbilt Hall, NYU School of Law
Issues considered:
        • What are the benefits of such agreements? Does their use shield or promote abusive manager actions and undermine employee rights?
        • What practices should employers, courts, and government enforcement agencies implement to monitor the use of NDAs?
        • The update on mandatory class action waivers.
        • What are best practices for companies for preventing sexual harassment claims and handling crisis management?
Pictured (Left to Right): EEOC Chair Victoria Lipnic, Professor Samuel Estreicher, Michael Delikat, Esq. of Orrick Herrington Sutcliffe, LLP
New Models of Worker Representation:
Friday, April 7, 2017 in Furman Hall, NYU School of Law
8:00 a.m. Breakfast
8:30-10:30 a.m. Program
Labor and employee groups are facing the challenge of the global economy by developing new approaches to the representation of worker interests. Moderated by former NLRB Chair, Wilma Liebman, the event featured David Roll of the Service Employees International Union who has spearheaded the "Fight For Fifteen" movement across the country, and Leonard A. Smith, Teamster leaders who has helped bring bring about the Seattle collective bargaining system for independent contractor Uber drivers. NYU School of Law Labor Center Faculty Director, Professor Samuel Estreicher also presented his paper, "The Labor Antitrust Exemption for (Certain) Independent Contractors."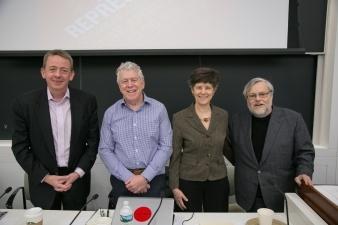 Talk Shop 2017: Cutting-Edge Employment Law Issues for In-House Counsel and HR Executives:
Wednesday, Febuary 8, 2017 in Snow Dining Room, Vanderbilt Hall, NYU School of Law
8:00 a.m. Breakfast
8:30-10:00 a.m. Program
The program was open to only In-House Counsel and HR Executives. Part of a series for specific constitutuencies, the breakast offered a briefing on employment law developments and a forum for peers to share best practives and issues of concern. Topics included what legal changes to expect in the Trump Administration, as well as pay inequity strategies, best practices for using data analytics in HR, non-disclosure and non-compete agreements.
Facilitators: Mark E. Brossman and Holy H. Weiss of Schulte, Roth & Zabel LLP with Faculty Director, Opperman Professor of Law Samuel Estreicher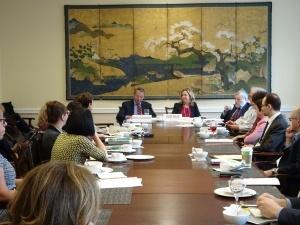 Other Past Programs:
Artificial Intelligence & Employment Law: "Big Data" and "People Analytics" in Personnel Decisions
69th Annual Conference on Labor: Arbitration and Mediation of Employment and Consumer Disputes
Annual NYU Employment Law Workshop for Federal Judges  *by invitation only          
A Labor Organization for Start-up Musicians?   *by invitation only          
Evening Celebration of Marvin Miller and Baseball Unionism      
The Crisis in Public Sector Pension Funds              
ABA National Symposium on Technology in Labor and Employment Law (co-sponsored by Labor Center);
China Labor Research Conference: The China Labor Market        
Employment Law Issues for In-House Counsel  
Annual Conference on Labor: The Challenge for Collective Bargaining     
What TTP Means for the American Economy and Worker
The End of Work and The Case for a Universal Basic Income?