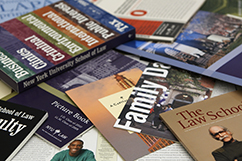 The Office of Communications offers design, production and print services for all internal and external publications of New York University School of Law, including brochures, invitations, booklets, newsletters and posters. In addition, Communications also publishes The Docket, a weekly newsletter, NYU: The Law School Magazine annually, as well as manages design and content for the NYU School of Law web site.
Nearly all publications require an outside vendor for printing, and the University always requires a purchase order. Please allow at least three weeks to design your publication and two weeks to print, depending on the complexity of your job. If your publication has a mailing component, also allow enough time for your publication to be received in a timely manner. A publications work order must be filled out and submitted along with the text before work can begin.
Contact David Niedenthal, director of creative services, at law.communications@nyu.edu or (212) 998-6107 to discuss your project as far in advance as possible, as volume is high.
Contact for Media Relations
Please direct all media inquiries for NYU School of Law to:
Michael Orey
Tel: (914) 330-5555
michael.orey@nyu.edu