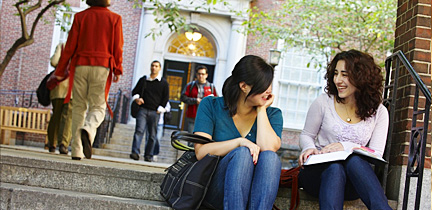 New York University School of Law, founded in 1835, is located on the University's main campus in Greenwich Village in New York City.
NYU School of Law is committed to enrolling a student body from a broad spectrum of society, with the strongest combination of qualifications and the greatest potential to contribute to the diversity and dynamism of the Law School community. The Law School strives to provide access to the finest legal education to members of groups under-represented in the legal profession.
The Law School community is enormously enhanced by our students' diverse backgrounds and experiences. Twenty-five percent of the Law School's JD students are students of color. More than 170 colleges and universities are represented in the Law School's student body. Seventy percent of the JD entering class enroll at the Law School after engaging in a variety of professional pursuits.
NYU Law has a range of signature scholarship programs that provide not only full tuition, but also intensive mentoring to develop tomorrow's leaders. Furman Academic Scholars focus on future legal teaching careers; the Furman Academic Fellowship program allows recent NYU Law graduates to continue that focus even after earning a JD Prospective students who want to pursue public interest can apply to the Root-Tilden-Kern Scholarship Program. AnBryce Scholars come from economically disadvantaged backgrounds, and are among the first in their immediate families to seek a graduate degree.
Other flagship programs include the Jacobson Leadership Program in Law and Business, which gives scholarships in amounts up to full tuition to students on non-traditional career paths bridging the legal and commercial worlds, and the Arthur Garfield Hays Civil Liberties Program, which awards a stipend as part of a fellowship for 3Ls wanting a leg up on a public service career focused on civil liberties.