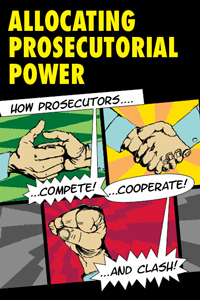 On April 23, the Law School's Center on the Administration of Criminal Law (CACL) held its second annual conference, "Allocating Prosecutorial Power: How Prosecutors Compete, Cooperate, and Clash." Patrick Fitzgerald, U.S. attorney for the Northern District of Illinois, delivered the keynote address. CACL Executive Director Anthony Barkow also used the occasion to announce the return of Anne Milgram '96 to the Law School. A seasoned prosecutor, Milgram was named first assistant attorney general of New Jersey in 2006. In June 2007, she was unanimously confirmed as attorney general, and held that position until January 2010. From now through the end of the year, she will be a CACL senior fellow, and in the fall will teach a course on human trafficking.

At its most basic level, Fitzgerald noted, the focus of the CACL conference was "turf." While that can be a four-letter word when multiple prosecutors go after the same case, he said, it need not be, and he offered a framework for deciding which office is best suited to pursue a particular matter. The first conference panel dealt with competition between federal and local prosecutors. The second addressed potential rivalry among law enforcers within a state, and panelists included Milgram, as well as the attorneys general of Oregon and Colorado. It was moderated by Professor Rachel Barkow, who is the faculty director of the CACL. The final session looked at whether strongly centralized authority is necessary or effective.
Video
Watch the second panel, featuring Rachel Barkow and Milgram (1 hr, 15 min):
More video at the Center on the Administration of Criminal Law home page.
Posted April 28, 2010