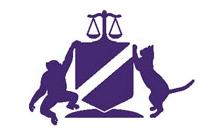 The Student Animal Legal Defense Fund (SALDF) promotes change in the legal status of nonhuman animals in the United States and abroad, advocates for the establishment of animal rights to life and bodily integrity, and works to promote the welfare of all nonhuman animals.
We engage in legal research involving questions of animal rights and animal welfare and work to educate the New York University School of Law community about the intersection between animal rights and the law. We encourage the NYU community to challenge the status quo of animals and to pursue lifestyles not involving animal exploitation. We promote nonviolent, responsible living, based on vegan diet and consumer habits.
We establish and maintain relations with the practitioners working on animal protection and with lawyers working in other areas of law who are willing to assist nonprofit animal rights organizations.
Please join us in our efforts to educate ourselves and our community about the field of animal rights law.
SALDF is an affiliate of the national Animal Legal Defense Fund.