The Environmental Law Society (ELS) is the student-run organization for future environmental lawyers and all law students interested in environmental issues.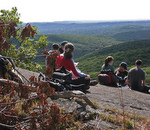 ELS is a community for NYU Law members interested in protecting our environment, exploring nature, promoting environmental justice, pursuing environmental law and everything in between. We aim to connect ecologically-minded students with the resources they need to thrive and to mobilize law students in the pursuit of sustainability and eco-justice on and off campus.
Along with the Environmental Law Journal, ELS is the heart of NYU Law's environmental community. We host a wide variety of events and activities:
Getting back to nature: hiking trips up the Hudson River Valley, tours of green spaces in the city
Exploring the issues: academic and practitioner panels on environmental justice, guest speakers from the front-lines of the fight for our planet
Launching careers: professional development panels on finding internships and first jobs for NYU Law students interested in environmental and related fields
Advocacy: working to promote sustainability in the NYU Law community and across the city
For more information about ELS and how to get involved, or even just about the NYU environmental law program generally, contact one of our board members, sign up for the greenlist (see the sidebar), or follow us on social media (ditto).
Thanks for visiting!