The Environmental Law Society (ELS) is the student-run organization for future environmental lawyers and all law students interested in environmental issues.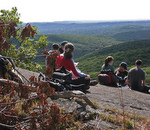 The Environmental Law Society is a community for NYU Law members interested in protecting our environment, exploring nature, promoting environmental justice, pursuing environmental law and everything in between. We seek to connect environmentally-minded students from all backgrounds with the resources they need to thrive at NYU Law and beyond.
Along with the Environmental Law Journal, ELS is the heart of NYU Law's environmental community. We plan exciting events and have a lot of fun together.
ELS-sponsored programs include issue-focused talks, featuring practitioners and scholars; professional development panels, featuring current students and alumni; advocacy projects at NYU Law and in the broader NYC community; hiking trips in the Hudson River Valley; and social events. We are also actively involved in campus sustainability initiatives. To see the full range of our activities, click on the Events link.
For more information about ELS or the NYU environmental law program, contact one of our board members or sign up for the Greenlist.
Thanks for visiting!