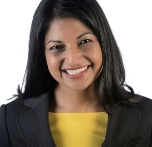 Aroma Sharma is the 2012-2013 Law and Social Enterprise Fellow at New York University School of Law. Aroma has a history of demonstrated interest in social entrepreneurship. She helped launch a micro-entrepreneurial law clinic at the High Tech Law Institute at Santa Clara University School of Law to provide corporate and transactional legal services to entrepreneurs. Through the High Tech Law Institute, she also worked with many entrepreneurs and innovators to put together a proposal to the United States Patent and Trademark Office supporting a satellite office in Silicon Valley. Aroma worked with social enterprises and sustainable businesses at the Sustainable Economies Law Center, assisting them with start-up needs. While at Sustainable Economies Law Center, Aroma also helped write a proposal to the Securities and Exchange Commission, which contributed to the passage of the CROWDFUND Act, a part of the JOBS Act passed in April 2012. She also has experience working on Federal false claims and securities litigation at a Silicon Valley law firm. She is an active member of the Asian Pacific American Bar Association and the South Asian Bar Association.
Aroma earned her JD from Santa Clara University School of Law, where she was a Production Editor of the Computer & High Technology Law Journal and a board member of the Women & Law Association. She holds a BS in Business Administration from the University of California, Berkeley, Walter A. Haas School of Business, where she focused on corporate social responsibility.
Aroma's research focuses on securities laws, and financing challenges that social enterprises often face. She is interested in identifying how social enterprises can best navigate federal and state securities regulations to raise capital for their ventures. She will also be looking at the JOBS Act to identify how entrepreneurs can best utilize the new exemptions and capital-raising strategies to encourage innovation.