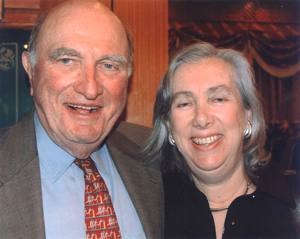 The Hays Program mourns the passing of Harriette Dorsen, who died on June 5, 2011, in Salisbury, Connecticut, with her beloved family at her side.
Harriette and Norman married in 1965 and the next year Harriette graduated from NYU Law School. She began her legal career at Lankenau, Kovner and Bickford, a small law firm, where she represented the Village Voice and other publishers and became partner in 1982. In 1987, Harriette took on a new career and became Vice President and General Counsel for the Bantam Doubleday Dell Publishing Group. After Bantam's merger with Random House, Harriette became Random House's Senior Vice President and General Counsel, where in addition to her legal duties she oversaw the construction of Random House's world headquarters in midtown. She discovered that she enjoyed this sort of work, and in 2002 she became the Director of Project Management Services for Plaza Construction Corporation.
In the years before her legal career, Harriette bore and nurtured three daughters who grew up to be awesome women. Jennifer, the eldest, works on education issues in the Boston area and has her own magnificent daughter. Caroline, the second born, is a professor at NYU's School of Nursing, where she promotes the role of nurses and nurse practitioners in delivering care to vulnerable people; she is also the mother of two wonderful children. Anne, the youngest, is a theatrical director who has achieved professional success and a commitment to intellectual excellence.
Harriette was a social and political activist. She served as Chair of the Volunteer Lawyers for the Arts, as Chair of the Lawyers Committee of the Association of American Publishers, and as counsel for the National Book Foundation. She was a board member of Planned Parenthood of New York City, where she became Chairman of Planned Parenthood's Council of Advocates.
Harriette was embedded and beloved in many communities, including New York City; Cornwall, Connecticut; and Sanibel Island, Florida. She was a gourmet cook, a gifted photographer, and a gracious hostess. She was the first ever "weekend" person to be elected Cornwall Democratic Town Chair; indeed, she was the first part-time resident of Litchfield County to chair a Republican or Democratic town committee.
Harriette had a remarkable grace, a beautiful spirit, and an unusual devotion to family and friends. Our collective heart goes out to Norman and his daughters and grandchildren during this difficult time.